Regensburg University Library reaches project goal in EODOPEN project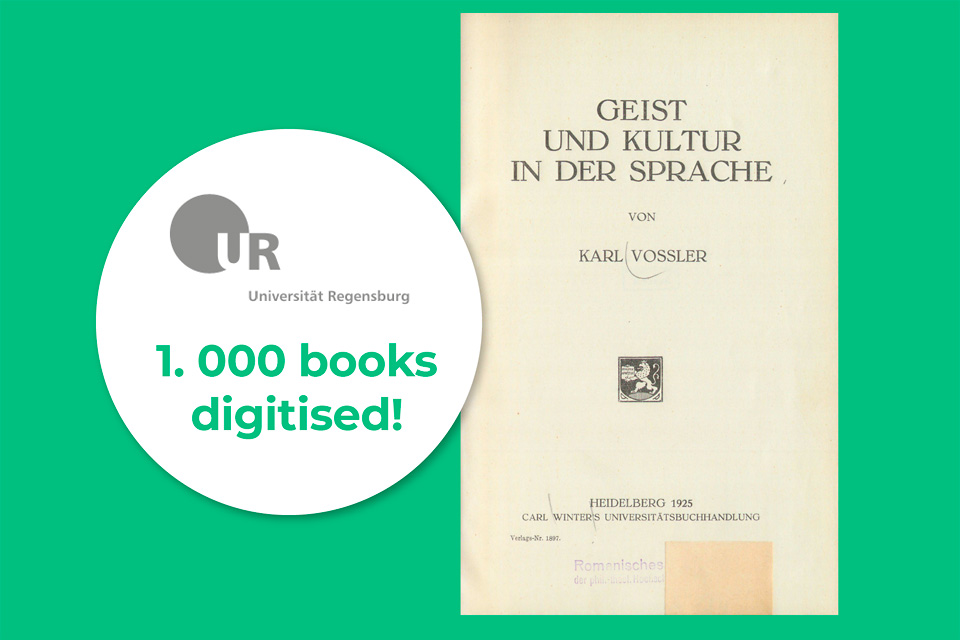 Regensburg University Library has achieved an important project goal early in the European digitization project EODOPEN: since the project began in November 2019, 1.000 books from the 20th century have been digitized and made publicly accessible.
Closing the digital gap of the 20th century is the goal of the European project EODOPEN, in which the University Library of Regensburg is participating together with fourteen other libraries from all over Europe. The library is now one step closer to this goal with the digitization of its 1.000th book, "Geist und Kultur in der Sprache" (Spirit and Culture in Language) by Literary historian and Romance philologist Karl Vossler, dating from 1925.
Thematically, the 1.000 books in the digital EODOPEN collection show a wide range. They range from historical and regional studies to linguistic and legal works, mainly from the first half of the 20th century. The digitized books were proposed to the Regensburg University Library for digitization by its users. Although the project goal – the digitization of at least 1.000 books – has now been formally achieved, interested readers can continue to suggest public domain books to the library for digitization. A book is in the public domain if all of the people creatively involved in it have been deceased for at least 70 years.
By digitizing these books, Regensburg University Library is making a significant contribution to ensuring that they remain in the public domain and available to readers free of charge and at any time via the Internet. Full text search allows readers of the digital book to search for specific keywords.
Contact:
Regensburg University Library
Project Group EODOPEN
E-mail: eod.open@ur.de
https://www.uni-regensburg.de/bibliothek/projekte/eodopen/
The digital collection is accessible at:
http://digital.bib-bvb.de/collections/UBR/#/collection/DTL-5873
November 24, 2022