Webinar on Impact of the DSM Directive on Copyright law in EU and Slovenia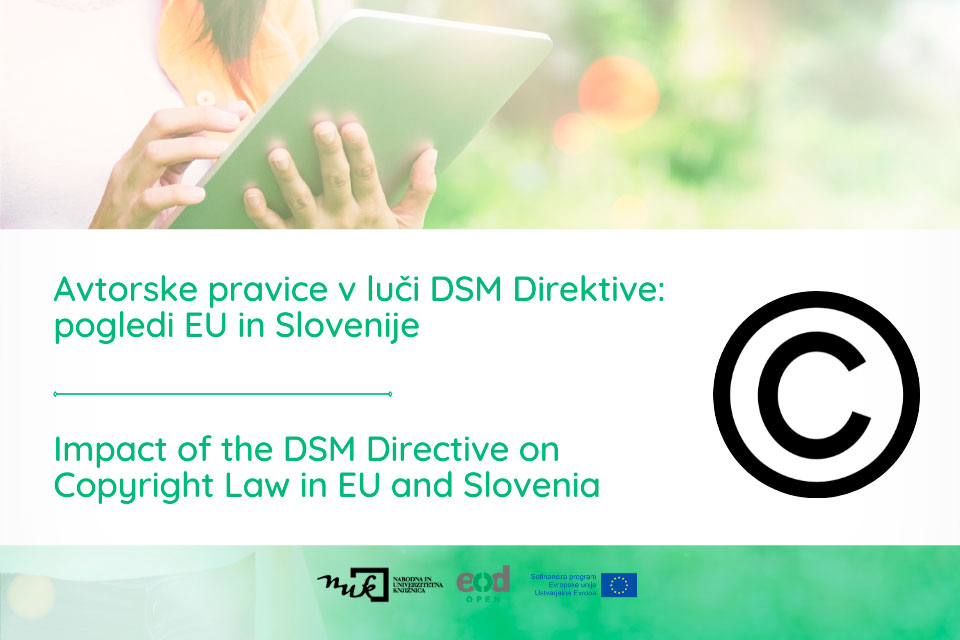 28th September 2021, 9.00am – 1pm
Webinar will be held via Zoom.
On 17th April 2019, the Directive (EU) 2019/790 of the European Parliament and of the Council on copyright in the digital single market has been adopted; its aim is to adjust certain copyright exceptions in the digital and cross-border environment, and to ensure a wider access to digital content. Some changes are relevant also to the field of librarianship, especially in regards to preservation of cultural heritage.
At the online event, guests from abroad and Slovenia will present their experience with transposition of the Directive into national legislation and key changes brought by the Directive.
Stephen Wyber (IFLA), Paul Keller (Open Future), Szabolcs Dancs (National Széchényi Library of Hungary), Christopher Natzén (National Library of Sweden), Maja Bogataj Jančič (Institute for Intellectual Property) will participate in the first part of the event which will be held in English.
The second part will be held in Slovene and is intended primarily for all interested librarians. The impact of the implementation of the DSM directive and the expected changes to the Copyright and Related Rights Act, which will affect or may affect the daily practice of working in a library, will be presented.
September 20, 2021